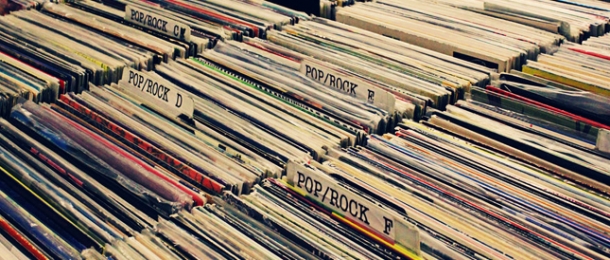 Here we are at the tail end of the year once again and I for one am more than happy to take the opportunity to reflect on some of the excellent new sounds I've encountered over the past 12 months. I feel more strongly than ever that in 2015 genres have been blended, unravelled, wrapped up again, bent and twisted beyond all recognition, with the appetite for dipping into the past to inform new approaches to music making healthier than ever.
With this in mind, it's no surprise that my 5 favourite LPs of this year all touch upon a wide range of stylistic bases and I hope you'll enjoy reading my thoughts on each whilst listening to the fascinating sounds that have inspired them!


5. Heathered Pearls - Body Complex
Michigan's Ghostly International has been releasing exemplary records for years now, from the likes of Dabrye, Shigeto, Tycho and others but this year, it was the turn of Heathered Pearls to arrest my attention.
Returning with a record that adds crisp, 4-to-the-floor drum machine grooves to the hazy, Ambient sound of debut Loyal, Body Complex's 10 tracks play out like variations on a central theme and thus forming a distinct whole in the process.
Warm, drifting synth pads and dense reverb contribute to the album's oceanic aesthetic, with the addition of the punchy beats where minimal, percussive ticks might typically have been expected, surprisingly complementing the ambiguous mood.
An album that feels instantly familiar and yet that gradually reveals new colours over time, this is music for those who, like me, frequently find themselves in a strange place somewhere between wanting to go to a club and meditating on the couch.

4. Floating Points - Elaenia
Floating Points has been on my radar for quite a few years now, releasing a steady stream of excellent singles since his infectious Vacuum Boogie first caught the attention of tastemakers and began the cultivation of his reputation for bringing a uniquely groovy, organic feel to a predominantly dancefloor-themed sound.
On Elaenia, his debut album proper, the producer and DJ throws out the 4-to-the-floor rhythms on which he has built his name and instead places jazzy Rhodes chords, nostalgic analogue synth arps and funky, if subtle, live drumming centre-stage.
The result is a pared-down and plaintive record that rarely demands your attention, whilst nevertheless inviting you in with its fluid, deftly detailed compositions that seem to ebb and flow with all the effortless grace of an autumnal breeze.
A jazz-inflected slice of analogue warmth with a soft-centre and exhibiting unusual attention to detail - in other words, a rare musical treat indeed!
Favourite Track: Nespole

3. Kendrick Lamar - To Pimp A Butterfly
Perhaps the most obvious choice on this list due to its overwhelming critical and commercial success (a rare triumph indeed), Kendrick Lamar's To Pimp A Butterfly stands head and shoulders above any other Hip Hop release as 2015's most powerful musical statement.
Across 16 tracks of uncommon diversity, Lamar throws elements of funk, jazz, rock, choral music and more into one seriously inviting musical melting-pot. Of course, it's the omnipresence of Lamar's lyrical flow that ties everything together but this is one record that greatly benefits from the contributions of its supporting cast, from Thundercat's dexterous bass to Kamasi Washington's saxophone jazz and George Clinton's husky vocals to production from Terrace Martin, FlyLo and beyond.
For his own part, Lamar weighs in with lyrics spanning race, politics, fame, family, history and more, all delivered with an electrifying conviction that flips acrobatically from introspective to bubbling anger. This is an album that brings delightfully smooth jams and raging musical fire and brimstone all under one roof, and sounds all the better for it.
Favourite Track: Alright / How Much A Dollar Cost

2. Björk - Vulnicura
What has an artist left to say, both lyrically and musically, after almost 30 years in the game and numerous critically acclaimed albums complete with their own distinct conceptual directions' Well, quite a lot it seems, if you're Björk.
Vulnicura was co-written and produced by Arca, the young Venezuelan producer whose debut album Xen topped our best albums poll last year and his industrial, elastic musical mark is evident across the album's 9 tracks.
Regardless, this is unmistakably a Björk record, whose lilting melodies and breathless, wide-eyed delivery direct proceedings from beginning to end and act as the album's resounding emotional centre.
Blending shimmering contemporary electronics and the strains of a string ensemble with the occasional pounding percussive groove and Björk's familiar vocal theatrics is no mean feat, and on Vulnicura both lead artist and co-producer achieve an astonishingly affecting musical journey quite unlike anything I've heard in a long time.

1. Palmbomen II - Palmbomen II
Apparently conceived during an intensive period of activity also incorporating binge-watching of The X Files, Dutch producer Palmbomen's second album certainly seems to exist in a strange, bleary-eyed world just a few steps removed from the one most of us inhabit.
Bouncy analogue synth lines and mid-tempo drum machine grooves mix with wavering pads and layers of reverb and tape delay, all made to sound scrubbed and delightfully worn through vintage processing.
It's as if Palmbomen's cheerful Techno jams are coming to us from an alternative vision of the past, in which a conspiracy is around every corner and yet a safe haven is also never out of reach.
No other record released this year brought a smile to my face as quickly as Palmbomen II does and I'm already looking forward to retreating into its joyous, psychedelic fantasy the next time I watch one too many Sci Fi films.
Favourite Track: Cindy Savalas / Caitlin Ross