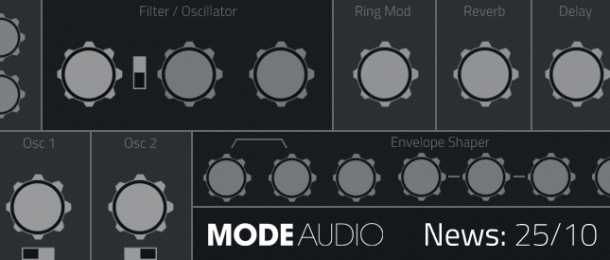 Welcome to our latest news item, delivering you 5 fresh slices of news from the worlds of music and technology, red-hot-off-the-press. As usual, the week has thrown up a strange mix of online musical oddities and curios and with our typical keen insight and editorial flair, we've chopped the chaff and laid out the wheat for you below. Featuring a brand new, out-of-this-world (literally) sample library you never knew you had access to, upcoming analogue hardware film news, a killer new XLR8R mix and more, dig in and enjoy!

1. NASA Brings You The Sounds Of Other Planets! 
Mid-October, 2014 will go down in sampling history, for it was the time that NASA gave producers across the globe access to 63 mouth-wateringly unique, literally otherworldly sounds. From rocket engines firing up (a lot of them), atmospheric radio waves and the bleeps of satellites in orbit, to the sound of interstellar plasma (we're not 100% certain what that is but are pretty sure it was a central plot device in Ghostbusters 2), NASA provides you with an absolute treasure trove of weird and wonderful space sounds - hit up their Soundcloud page and get stuck in!

2. The Trailer for the TR-808 Documentary Finally Lands 
A documentary dedicated entirely to that most loved of drum machines, the Roland TR-808, has been on the cards for quite some time but a trailer has finally arrived, meaning the full release of the film can't be too far away now. The listed interview credits are simply astonishing - pretty much every famous artist connected to electronic music is in this film in some shape or form. The trailer is tasty but the film is going to be delicious!

3. Play a Virtual Prepared Piano 
Web-apps are ten-a-penny these days and we've featured some pretty cool musical ones in these pages in the past. This latest fully-playable creation by Andreas Busk-Jepsen is something of a rarity however - 17 lovingly-recorded prepared piano samples mapped across your computer's keyboard, plus free Logic, Kontakt and Ableton Live patches available for download. John Cage would have been proud!

4. Watch Brassica Make a Beat in 10 Minutes 
Fact Mag TV's excellent video series challenging artists to make a self-contained beat in 10 minutes continues to amaze, teach and inspire us and the latest entry by Brassica delivers you a unique insight into his Ableton Live-based production process. Watch him tinker with some funky percussion loops and get tapping on his analogue synth in the creation of a woozy, vintage-sounding gem.

5. Gerd Janson Drops A Superb XLR8R Mix 
Gerd Janson is known as a 'DJ's DJ' and has been playing out to crowds in Europe's biggest clubs for years now. Like his DJ sets, his entry into the stellar XLR8R podcast series is nothing short of a revelation - it instantly reminds us of all the fun, beauty and joy to be had from a solid slice of House music. Give it a spin and feel the smile spread across your face.