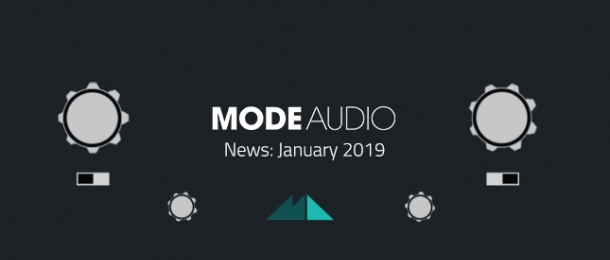 A brand new year is upon us, with plenty of exciting development in the worlds of music and music tech to come in the next 12 months.
We're reviving our regular news column to catch you up on our picks of all the latest developments, from producer tips and new gear announcements, to festival photos, film releases and more.
This month, we're taking you from the intimacy of one producer's home studio to the gilded streets of Tinseltown, taking in stops at a new gear release and shades of a reclusive Detroit legend's sort-of new album along the way. Let's dive in!
Watch Rival Consoles Cover Kate Bush (by FACT Mag)

We've long be admirers of Rival Consoles' lush blend of woozy synths, hard-hitting percussion and cinematic melodics, so a peek inside his home studio to watch him play a live version of Kate Bush's Running Up That Hill is nothing short of a treat!
The synths and silky keys skills are as much a feast for the eyes as the sound is for the ears - watch above.
Dreadbox's Hypnosis Effects Unit Is A Certified Wooze Machine (by Music Radar)

If you've come across any of our Synthwave sound packs or checked out our breakdown of the Stranger Things theme, it probably won't come as a huge shock that chorus and pitch-shifting are among our favourite effects.
It was with particular interest in this case that we caught wind of hardware developers Deadbox's new Hypnosis effects unit, bringing all the sonic haze and nostalgia of yersteryear into the 21st century producer's studio.
Listen to a snippet of what this retro-fired beauty can do above.

5 Inspiring Women Fixing The Gender Problem In Music Tech (by Attack Magazine)
As with pretty much all aspects of modern life, the music and music tech industries are largely male-dominated affairs, though of course recent events and shifts in the aspirations of younger generations are finally challenging this status quo.
We recently stumbled across Chandler Shortlidge's study of 5 women thriving in music tech, which is a deeply inspiring read for any who care to take a look. Music and music-making should be for everyone and maybe, just maybe, this ideal is starting to become a little more of a reality.
Moodymann's Unreleased New Album Has Sold For $500 (by Resident Advisor)

Moodymann, our favourite hero of Detroit House and Techno, was supposed to drop a brand new album last year, which would have been his first in 4 years.
In true Moody style however, that didn't quite happen and no one is really sure when the new record will be released - in what has become equally typical fashion, a pre-release copy has nevertheless been sold on the Discogs secondhand marketplace for $500.
Is that a silly amount of money to pay for a record? Almost certainly, but it has resulted in a few clips of the album being leaked in a video posted on Youtube, and boy does it sound good! Maybe we'll see a full release later this year? Please?!

Exploring The Sights & Sounds Of Ableton's Loop Festival (by Ableton)
Our final selection pulled from the music-making landscape is a photo gallery round-up of Ableton's now annual Loop festival, which attracts performers, producers, collectors and engineers of the highest calibre to conduct talks on a staggeringly wide range of musical topics.
This year's festival took place in Hollywood, and the videos that have emerged so far suggest it was a vintage year - head to Ableton's website for more.