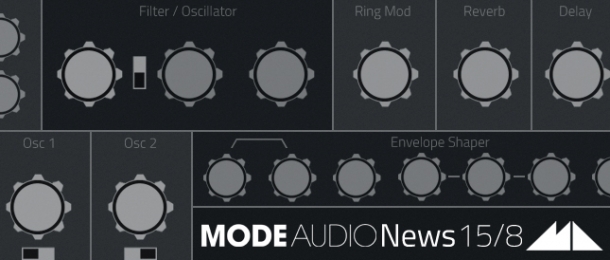 It's been a while since we brought you an update on the tech and music worlds so we thought we'd better make sure there was some decent nuggets of digital goodness to offer up for our latest news roundup. We're pleased to say there have been some particularly interesting and exciting developments in both intersecting spheres of musical activity, from the announcement of new digital musical toys to play with and help us all to make better sounds, to fully finished sounds of the fresh and inspiring variety from some of our favourite producers. Dig in below!

The purveyors of the immensely popular Reason software, Sweden's Propellerhead, recently announced the next step in DAW world domination - Reason 8. This latest major update will boast a completely redesigned UI and a streamlined workflow that will allow those less keen to work in the rack, to operate exclusively from within the arrange window.
Other improvements include a new drag and drop approach to file browsing, meaning you won't have to spend ages looking for those little folder icons to load up new sounds and devices anymore! Reason 8 will arrive on the 30th of September and will be available for new customers and as an upgrade package for existing users.

2. Audio Damage Deliver New Synth Plugin 
Audio Damage, the excellent plugin manufacturer responsibly for the brilliantly gritty (and free) Rough Rider compressor, have released Basic, a brand new budget soft synth for those in need of a simpler approach to synthesis. Boasting 3 oscillators, 2 MS20-style self-resonating filters, a 4 waveform LFO, 2 ADSR envelopes and soft saturation, we reckon this one just might be worth the insanely low $39 (£24) asking price!

3. Sneak A Peek Inside Perc's Bedroom Studio 
Music Radar has continued its excellent series of behind the scenes photo galleries this week by publishing 15 images inside Perc's studio, alongside an interview with the man himself. From vintage delay units and drum machines to much newer units from the Korg Volca series and rereleased MS20 mini, the text and images here provide a fascinating insight into Perc's creative process. Have a read and a gawp and get inspired.

4. Gold Panda Gives Away New Track 
From his earlier lo-fi chillwave to the more disco-y vibes of his recent output, we've long been fans of electronica odd-ball Gold Panda. This week he dropped a new tune in association with the omnipresent Gilles Peterson titled Clarke's Dream, available to stream and download for free from Soundcloud. It's a lovely little slice of sunny, soul-y house and we reckon it'll put a smile on your face as soon as you hear it.

5. Claude Speeed Drops A Dreamy Mix 
LuckyMe's Claude Speeed recently unveiled his long-awaited debut release to much critical acclaim (we can do nothing but add to the growing body of heartfelt praise) but since then, he's been busy putting together a gem of a mix for Fact Mag. Veering from beatless, blissed-out drones and atmospheres to slow-burning, crunchy electronica, this is a mix to snuggle down and dream with if ever we heard one!