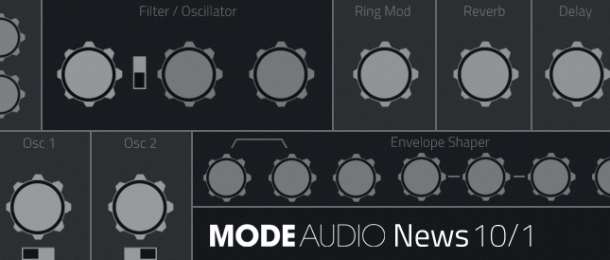 A new year, a new set of musical and electronic delights. Welcome to our first news post of 2015, packed with exciting developments in the overlapping realms of acoustic music, electronic sound and science. Including preview info from the bona fide early highlight of the music tech calendar, an excellent new free plugin, yet another cymatics-themed video (though this might be the best we've seen so far) and more, we hope these nuggets of news will give you much to be excited about in the coming weeks and months. We certainly are!


2015 has barely got off the ground but already gear enthusiasts around the world are salivating at the prospect of the next edition of the biggest and best festival of music equipment in the world, NAMM (National Association of Music Merchants). As Attack Mag describes in the preview linked above, this year's is set to be a stellar show with a particularly large swathe of gear aimed at electronic musicians being launched. From an all-new analog synth from Roland, audio interface from Arturia, yet another classic synth reissue from Korg to an as-yet-unannounced new product from keyboard legends Nord, there's going to be much to drool over in the coming weeks'

2. Vladg/Sound Drops A Free Dynamic EQ Plugin
Vladg/Sound has been making stellar plugins, at both budget and free price points we might add, for quite some time now and their recent collaboration with Tokyo Dawn Labs, producing the excellent SlickEQ, was nothing short of a triumph. Due to its appearance on many 'best plugins of 2014' lists, we recently stumbled across their excellent and free Nova-67P plugin, which is a dynamic EQ plugin that can adjust its gain settings according to sidechain input. A must have!

If you've read previous ModeAudio news posts or follow us on any of our social media accounts you'll already know we have a soft spot for cymatics, the study of visible soundwaves and standing wave patterns. Youtube is peppered with excellent demonstrations of the science involving everything from sand poured across resonant plates to milk in speaker cones. However, we must admit that this video from Nigel Stanford takes the biscuit - a tad overly melodramatic perhaps but the HD footage of pools of resonating fluid, morphing sand standing wave patterns and later, beat-synched bolts of lightning from a tesla-coil is simply awe-inspiring!

4. Metaphase Turns Radiation Into Creepy Soundscapes
This week, AskAudio detailed a new and innovative generative instrument that turns radiation into eery electronic soundscapes. 'Metaphase' from Dmitry Morozov packs an onboard geiger counter that detects ambient radiance in the instrument's immediate surroundings, data which is then used to control feedback patterns generated across its array of speakers and microphones. The sounds produced are very textural including grating, scratching and whistling, producing a creepy, ambient effect, and watching the instrument in motion is a similarly mesmerising experience.

5. Ninjatune Delivers Epic '14 SoundCloud Playlist
In the world of electronic music, one of our absolute favourite labels of all-time, Ninjatune, this week dropped an exhaustive 61-track playlist involving artists and releases they put out over the course of 2014. From established big-hitters such as Bonobo, Machinedrum, Wiley and Flying Lotus to exiting new-comers such as Young Fathers, if you had your head in the sand last year then this is a great way to catch up with what has happened in electronic beat music in the last 12 months.