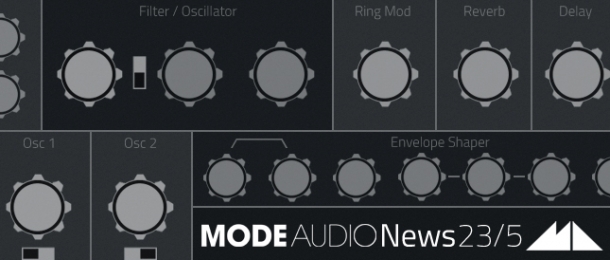 It's been a while since we did one of these but there's been so many interesting developments in the worlds of music and technology recently that we just had to share the following with you. From an intensely addictive and brilliantly innovative take on the 808 and drum sequencing in general, to mouth-watering gear shots in the studio of one of the most creative dance pioneers of the last decade, there's much to see, hear and otherwise mull over. Enjoy!

1. The 808 Meets the Rubik's Cube
This is simply too much fun. Roland TR-808 samples meet a stunning, Rubik's cube-inspired GUI in this collaboration between Google and Secret Feature. This is probably simultaneously the best web-based app and biggest excuse to extend your lunch break to over 2 hours, ever created! Go on, give it a go - we'll see you in a few day

2. Behind the Scenes in Jon Hopkins' Studio
Stunning, detailed photos straight from a gear-addict's wet-dream, these pictures give us unprecedented access inside Jon Hopkins' studio. From a worn Korg MS20 to a rack-mounted Eventide Ultra-Harmonizer, this is all pretty drool-worthy stuff. In fact, if you're into vintage gear (and fairy lights) you might want to put a bib on before looking at these'

3. Monolake Shows Us the (Laser) Light
Yet another fascinating interview with music tech pioneer and Ableton co-founder Robert Henke a.k.a Monolake, this one with Ableton themselves details the German gurus forays into audio-visual improvisation. The embedded clip of Henke's simply mesmerising show, titled Lumiére, if worth the click along but the interview is full of typically detailed tech chat and insight.

Red Bull Music's beat:repeat series recently saw the unlikely pairing of Anthrax drummer Charlie Benante and Ninjatune's Lee Bannon. Bannon samples Benante's metal drumming to create a signature nu-jungle tune, with Benante marvelling in Bannon's MPC-based workflow. Brace yourselves folks, we could have death-jungle on our hands any moment now'

5. Matthew Herbert Mixes the British Library's Field Recordings
Last but by no means least, we have another (yes, yet another) sound art pioneer mixing up fascinatingly detailed field recordings for the Boilerroom. Matthew Herbert's unconventional approach to all things music tech doesn't stop here, as he mixes bird song with ethnic pipe playing and noisy, rhythmic loops straight from the British Library's basement studio.