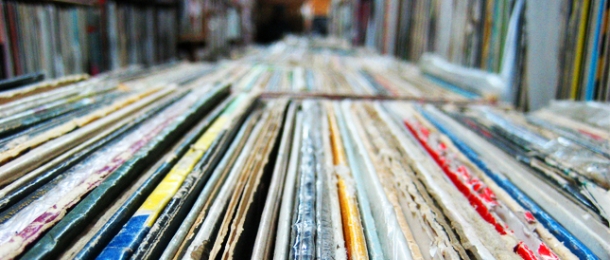 So there we have it, 2014 draws to a satisfying close and thus concludes another packed sequence of musical happenings of all shapes and sizes. From mega-budget albums released overnight with little to no warning, the return of electronic music royalty and awards-season surprises to big names harkening back to their musical roots, shadowy offerings from the new breed of genre-defying beat-makers and everything in between. No matter what style of music got your heart beating just that little bit faster, 2014 delivered oceans-worth of good vibrations and, just in case you missed anything or want to compare with your own favourites, I'd very much like to share with you my top 5 album picks from the last 12 months in the beautiful world of electronic sound:

5. Aphex Twin - Syro
Richard D. James, the grand jester of electronic music came roaring back into the collective consciousness this year with the release of his first album under the legendary 'Aphex Twin' moniker in 13 years. Hot on the heels of the 'official' release of James' Caustic Window album written two decades previously, Syro was at last a chance for fans to hear a lengthy set of new material from the Grandfather of glitch and IDM. Whilst not a huge departure from James' previous music, Syro is so intricately constructed, rhythmically complex and texturally rich as to render this something of a moot point. Quite possibly James' most harmonically lush offering to date, Syro proves the Cornish king of electronic sound has lost none of his abilities in crafting vertigo-inducing beats and yearning melodies or, indeed, relevance in today's multifarious musical landscape.
My standout track - minipops 67 [120.2][source field mix]

4. Flying Lotus - You're Dead!
Flying Lotus, the crown-prince of the LA Beat Scene dropped his latest sprawling epic of an album this year, packed full of colourful contributions from rappers and jazz greats alike. You're Dead! takes the concept of death as embodied in the works of eastern spiritual writings such as The Tibetan Book of the Dead and filters it through a kaleidoscopic prism of jazz meanderings, hip hop beats and rapid-fire verse, conjuring up tripped-out breakdowns, frenetic beat collages and grand, cinematic visions at a dizzying pace. Never one to shy away from his ideas, FlyLo throws fistfuls of rhythms and rhymes at his listeners with each burst of sound on You're Dead, creating a giddily glorious impression in the process.
My standout track - Never Catch Me (feat. Kendtrick Lamar)

3. Young Fathers - Dead
Young Fathers have had a pretty fantastic year - having won the prestigious Mercury Prize with their debut album Dead, they're already in the process of writing their next album and have toured the globe in only a few short months. Dead caught my attention for it's vocal dexterity and beautifully woozy, analogue synth-style production, which when placed in a hip hop context sounds even fresher and exciting now than it did when the album first dropped earlier in the year. The three young Scottish rappers behind Young Fathers take turns to spit out passionate verses in a range of accents and characterisations throughout the album, giving proceedings an unexpected but most welcome theatrical element. Coupling this with those swaying, unsteady synth leads and the occasion flashes of thumping, repetitive drums makes for a most delicious and refreshing slice of alternative hip hop indeed.
My standout track - No Way

2. Taylor McFerrin - Early Riser
Taylor McFerrin's first release for FlyLo's Brainfeeder label, Early Riser, is nothing short of an intensely beautiful collection of warm, jazzy keys, rhythmically exciting drums and percussion, tasteful synths and emotional vocal contributions from a number of collaborators. Merging jazzy Rhodes, bass and drum work-outs that never test your patience with intricate and subtle synth and beat programming, the album stands as a gorgeous testament to the viability of marrying acoustic playing with electronic elements. Play this one loud, close your eyes and let is spread sunshine though your soul!
My standout track - Florasia

1. Arca - Xen
No other collection of music occupied my thoughts this year as much as Xen, Kanye and FKA Twigs collaborator Arca's debut album. A strange, warped sonic journey through twisted, submerged keys, crushing, slo-mo percussion, sweet orchestral flourishes and foreboding synths, the album is, simply put, unlike anything else I've ever heard. From moments of quiet reflection that expertly marry instrumentation and production to frightening stabs of sharp synth chords and cavernous, industrial percussion soundscapes, Arca's vision somehow manages to be grand and cinematic whilst also intimate and personal. Xen represents a most talented and exciting producer finding his voice and using it to convey moments of darkness and light, sorrow and joy, solitude and fraternity. Listen to this voice and be transported.
My standout track - Sisters