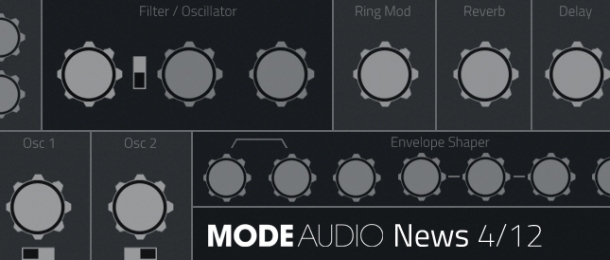 This week has seen not one but two interesting developments in the world of the humble DAW, with big news announced by Steinberg and Image-Line, two veteran developers of some of the best-loved audio software out there. Elsewhere, music blogs and magazines gear up to the end of the year with the expected end-of-year best-of lists, with Resident Advisor choosing some tasty drum synths as part of their round-up of the year's best music gadgets. Cymatics gets a much-needed break-down from AskAudio Mag and finally, everybody's favourite Levi advert soundtracker Mr. Oizo drops some truth-bombs on the unsuspecting readers of XLR8R. Read on and enjoy...

Steinberg surprised fans of their famous DAW Cubase with a brand new version this week, offering up Pro and Artist versions to cater to different needs and budgets. After almost 3 decades in the game, Steinberg are old pros and their software has always reflected this deep knowledge and experience - we expect version 8 will be no different. This update is a major overhaul of their flagship software and boasts improved speed, efficiency and performance - we like the sound of the new analogue console-style faders in particular. Click the link to find out more.

2. Image-Line Will Bring FL Studio 12 To Mac
Belgian company Image-Line, responsible for Fruity Loops and now FL Studio, one of the world's favourite pieces of music-making software, have announced they will be bringing a proper, native version of FL Studio to Mac users when they launch version 12. For a while now, Mac users have been able to use FL Studio on their computers but only as a 'wrapped' version, resulting in bugs and more plugin support. However, these issues should be resolved in a new, native version, as Attack Magazine explore in the linked article.

3. Resident Advisor Pick Their Top 6 Drum Synths
Resident Advisor shared they favourite 6 hardware drum synths from 2014 this week, arranged loosely according to price. Sitting proudly at the top of the list is the Korg Volca Beats units, the budget, fully-analogue drum synth that has taken the world by storm. About 1/4 of the price of Roland's new Aira TR-8 unit (number 2 on the list), this little baby has certainly captured our imagination - what more could you want than analogue beats on a budget' Check the full list out above.

AskAudio recently posted an introductory article exploring the fascinating subject of cymatics, which seeks to visualise sound and identify standing wave patterns. From gorgeous experiments with resonating plates and plenty of sand (watch the accompanying Youtube videos for evidence) some seriously weird liquid that morphs into Sci-Fi-like patterns when vibrated with sounds, this is one geeky subject the casual observer can also thoroughly and immediately enjoy!

5. Mr Oizo Tells It Like It Is
Veteran Bass producer Mr. Oizo (yes, creator of that famous/infamous Levi's ad soundtrack) recently offered his words of production wisdom to readers of XLR8R and, I have to say, I for once found them to be particularly refreshing. From sharing his preferred software (Logic Pro, amongst others) to exploring his creative process, the Q & A is a fascinating insight into the work of an idiosyncratic and immensely popular talent. My favourite quote:
'I have tried many things (analog synths, crazy controllers, 5899 plug-ins) and I realised something very important: tools can't make music for you'.