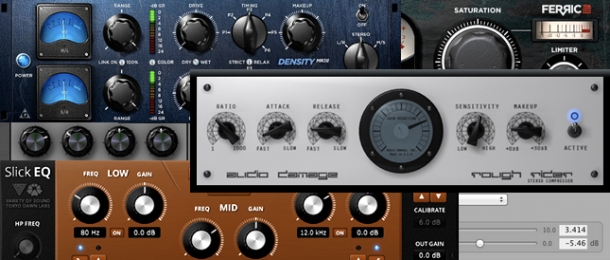 Where would us producers be without top notch freeware to get us going' Whilst they might not be the plugins you use on your final mix or for the central elements of your music, free plugins can fill gaps in your effects collection at the very least and offer stunningly pro sound processing at best.
Since publishing my first article detailing my top free plugin tips, I've discovered a wealth of new software from both excellent indie developers and established plugin brands. I thought it was about time to update you all with my new top picks, ranked in no particular order below.
These brilliant plugins span compression, EQing, filtering, reverb and, one of my personal favourites, tube amp/tape saturation. Enjoy!

The newsiest addition to this list, Tokyo Dawn Records' collaboration with the prolific Variety of Sound (included in its own right below) has spawned a simply beautiful EQ plugin. Every bit as silky as the name suggests, the VOS Slick EQ has a wonderfully smooth aural character, a simple and effective layout, as many tweakable parameters as you'd ever need from an EQ and a fantastic tape saturation-style drive control. An absolute gem of a plugin.

Variety of Sound collection (VST)

This has to be said - I love Variety of Sound. There just isn't another collection of free plugins available online that are as well made or gorgeously designed as those available on their webpage. From vintage EQ and compressor emulations to unique saturation and reverb effects plugs, the range and quality on show here is nothing short of astounding. I seriously envy anyone stumbling across this page for the first time; it's going to be a beautiful moment.
The only downside to the VoS collection is the plugins are for Windows users only. All you Mac users don't have to fret for long however; the next entry in our list is just for you.

The story behind this wonderful little plugin goes thus: Steven Massey, founder of the esteemed Massey plugin developer, tried and failed to properly port his previously Pro Tools-only TapeHead plugin to Apple's AU format. Rather than scrap all his hard work, Mr. Massey generously decided to offer the incomplete, yet-to-be-skinned plugin to Mac users, in exchange for the grand sum of nothing.
The result is a fantastically rich and gritty-sounding saturation plugin that can be driven lightly for warmth or pushed hard for all-out distortion. This is quite possibly my favourite plug of the bunch; Mr. Massey, I salute thee.

Audio Damage Rough Rider (VST/AU)

This is a great analogue-style compressor from Audio Damage that gently warms any incoming audio the more you push it. Its simple layout and elegant design make it a joy to use and the lack of precise gauges and ruler markings encourages careful listening and tweaking.

TAL's Tube plugin has been around for a while but is one I find myself often going back to whenever I'm in need of some subtle harmonic colouration or extra warmth. It's a no frills, no nonsense sort of a plugin that delivers an eminently useful range of saturation and distortion effects, every time.