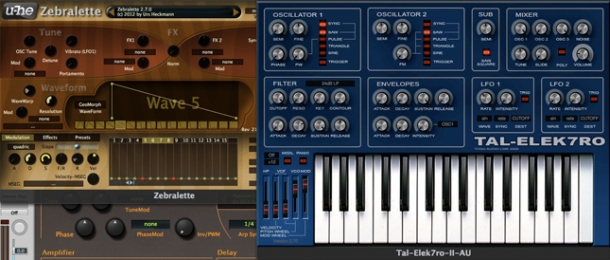 Plugin developers are reaching a new age of maturation, releasing ever more sophisticated tools to help electronic musicians make music. Unfortunately, many of these plugins will make a pretty large dent in your wallet; thankfully, manufacturers also release the odd synth to the world for free, allowing producers to test out their synthesizing mettle. Here's a rundown of a few of our favourites!
U-he Tyrell N6, U-he Podolski & U-he Zebralette (AU/VST)
U-he have been making brilliant sounding, easy to manipulate effects and synth plugins for years now. The above three synths are all ingeniously simple yet can offer you powerful, analogue-style results in minutes.
Tyrell for example comes programmed with a number of vintage-style presets, such as a Roland Juno string pad patch emulation. Not only do these synths sound fantastic, they're incredibly easily to programme thanks to the limited number of dials and tweakable parameters (though there are still plenty of scope for sound mangling). Highly recommended!
Phuturetone Phutura (VST)
If you're using a Windows computer then today is your lucky day! Simply click the link above and analogue-style synth goodness will be yours. Create sounds both classic and contemporary with this excellent free synth plugin, perfectly geared to warble, vibrate and distort your oscillator input to provide some truly phat sounds!
Noise generators, multiple oscillator types, a warm resonant filter and amp envelope can all be modulated to sculpt out a range of cool synth sounds.
TAL Elek7ro (AU/VST)
Despite the slightly awkward name, this simple but highly effective plugin comes packed with classic analogue synth features such as a sub oscillator, filter envelopes and two assignable LFOs. Choose from four classic waveform shapes to get your synth part bouncing!
Plastaq Scythe (VST)
An innovate, free soft synth that styles itself more as a sound design tool than classic synth. Its versatile oscillators emulate analogue waveforms as well as incorporate digital designs and coupling these with its interesting range of effects (digital grunge!) can produce really very unique results.
Ichiro Toda Synth1 (VST)
Synth1 is by now a bit of a classic in the world of synth freeware. Although it might look a little old-skool by today's standards, its sonic range and feature set make it a must have sound generator for producers both young and old.
A healthy range of filtering options, an arpeggiator and synchronizable effects such as delay and flanger keep this synth at the very top of the freeware synth market.