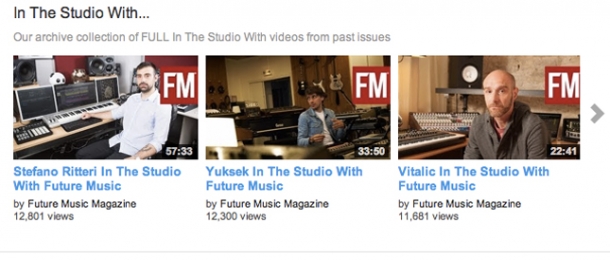 Thanks to our increasing reliance on the internet for quality content and guidance in the world of electronic sound, there has been a huge surge in the number of video tutorials posted online recently. For the digital producer, this has taken the shape of a monumental burst of videos covering any and every topic, from Massive bass walkthroughs to how to use Ableton Live as a time-machine (sadly, we're only kidding there!).
The upshot of all this is that you can become a better music-maker simply by taking the time to watch a couple of Youtube videos. Gone are the days of having to wade through giant physical manuals that could literally break your limbs - help is on hand to take you through only the relevant details.

Choices, Choices
Due to the sheer quantity of tutorial videos out there, the issue has quickly become knowing where to look first for the most useful tips and tricks. By our reckoning, it's always been best to learn from the pros and this is where Computer Music's excellent 'Producer Masterclass' and Future Music's 'In The Studio With' series come galloping into play.
We just can't tell you exactly how many things we've picked up from both these sets of videos over the years. From Kirk Degiorgio and Benga to Swedish House Mafia and Nicky Romero, some of the brightest talents in electronic music have given their time to teach us how to improve our sound and all it takes is a spare lunch break to unlock their secrets!

A Few Of Our Favourite Things
Obviously, depending on where you're at as a producer technically and what sort of music you want to make, you will find different videos more or less useful. However, we'd like to give you a taste of the power of these videos by pointing out a few of our absolute favourite sessions.
Four Tet
James Holden
Bonobo

Rusko