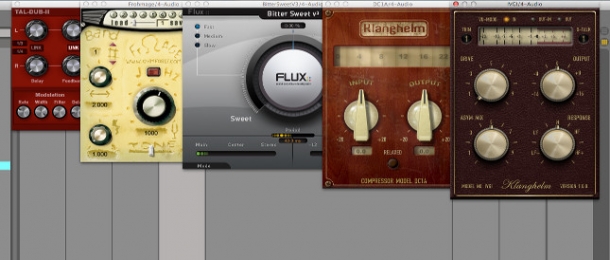 The digital revolution has led to a wave of incredibly talented and dedicated software manufacturers coming together to make useful tools for producers and musicians. Everything from simple online guitar tuners to incredibly complex, hybrid software/hardware synthesis modules are available to help you make music.
What is surprising however is that you don't always have to shell out a small fortune to access these digital tools and plugins, with everyone from little-known developers to the biggest in the game letting you enjoy their handiwork free from charge.
In the search for such kindly plugin manufacturers, google is of course your best friend but we'd like to start you off on your hunt with a run-down of a few of our absolute favourite free plugins.
Flux BitterSweet (AU/VST/AAX)
This excellent free transient shaper plugin comes courtesy of the mighty Flux, whose market-leading audio design tools would typically set you back more than a modest holiday! Version 3 features a main control allowing you either to boost or reduce the transients (the very first vibrations) of your source sound and you can use the handy gain makeup link function to make sure you don't push the volume into the red.
This sort of plugin is ideal for drum processing and can really help to pronounce the initial snap of your snare, or click of your kick. BitterSweet v3 also lets you process stereo sounds in MS (mid-side), so you can work on transients in the centre or to the sides of your sound exclusively. Throw this bad boy on a channel with any of our drum hits to really hear it sing!
Melda Production Free Effects Bundle (AU/VST)
A massive 22 plugins are included in this incredible bundle, giving you access to a host of useful processing tools. These free plugins are simple but very effective and often boast quirky features that you'll quickly wonder how you ever did without.
The Tremolo plugin for example allows you to choose the shape of the envelope that modulates the amplitude of your source sound - already a huge step up from Logic's limited tremolo tool for example. As well many other useful signal processing plugins such as a Flanger and Auto Panner, the bundle also comes with Frequency and Loudness Analyzers, a Stereoscope and more that'll help you to understand the science of your sounds.
Ohm Force Frohmage (AU/VST/RTAS)
It often strikes us as surprising that more DAWs don't come with quality, analogue-style resonant filter plugins but you can pick this wilfully unique one up from the weird and wonderful Ohm Force for free.
Frohmage is a multi-band filter that works wonderfully as a resonating low-pass or band-pass. It features an incredibly simple and easy to use interface that'll have you introducing some classic analogue warmth into your music in no time. This sounds particularly sweet on drum loops.
Klanghelm IVGI & Klanghelm DC1A (AU/VST/RTAS)
Klanghelm are perhaps a lesser known plugin company dedicated to creating plugins emulating the classic era of analogue mixing desks. Their free IVGI plug in particular can be used as an excellently subtle saturation effect, or when pushed harder as a nice and crunchy distortion unit.
DC1A works as a lovingly characterful compressor with a mercifully simply interface - just tweak the input and output dials to warm or beef up either a single track or bus output.
TAL Dub (AU/VST)
Delay is an oft-used effect but one rarely that rarely comes better than TAL's wonderfully free Dub set of plugins. These excellent delay units come integrated with filter/distortion parameters that can be utilised to add some real warmth or bite to a sound. Check these devices out for real analogue-style tape delay effects and more!
Michael Norris Soundmagic Spectral Bundle (AU)
A groundbreaking set of 24 spectral processing plugins that have to be experimented with to be believed! Everything from gorgeous, harmonic drones to unconventional comb filtering effects can be achieved with this set of free plugins and the more you play with them the more you'll get out of them.
We recommend the Spectral DroneMaker and Spectral Emergence in particular, for the creation of fantastic, murky ambiences and sound effects.