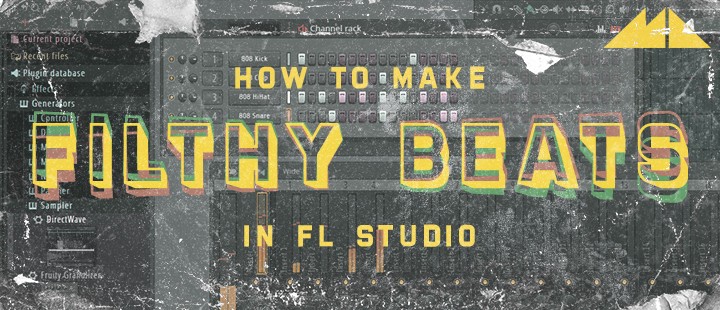 Today's tip is for the FL Studio users out there who want to introduce some grit and dirt to their beats!
Luckily for us, FL Studio has some great little native FX that can do the job, with no need to empty our wallets on fancy 3rd party plugins.
What's more, we've also only used plugins available in the 'Fruity' (most basic) edition, meaning no FL Studio user is left out!
So let's get into it - first thing to do is get some drums going. Feel free to do this how you want, but in our case we're going to use some loops.
We've taken a kick loop and a couple of top-drum loops from our latest Hip Hop sample pack Vintage Hip Hop Loops:

The next step is to adjust the volumes of the drums to get a nice mix, then route each one to the same mixer track (in this case #1) - this will be our 'drum bus' to which we'll apply our filthy FX chain!

Here's how the drums are sounding just now:
If we now click on 'Insert 1' in the track mixer, we should see a load of empty slots on the right hand side - this is where we'll add our plugins to process the drums (after clicking on Insert 1, hit F2 to rename the track to 'Drum Bus')
Now it's time to add the FX in each slot - let's take a look:
Slot 1: Fruity Fast Distortion

First up in the chain is the Fruity Fast Distortion to introduce some grit and punch to our drums!
We dial down the THRESH and MIX knobs until the effect is subtle , but not too subtle that it isn't heard. Turning the threshold right down means the distortion affects and narrower frequency band. A higher threshold setting means a more intense sound.
We also turn the POST dial down to help with gain staging, as we'll be using a number of FX that will be boosting our signal
Slot 2: Fruity Waveshaper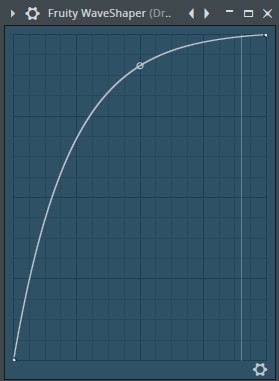 Next up is the Fruity Waveshaper with its seemingly simple interface!
We'll introduce another level of distortion here by adjusting the Waveshaper shape, which is then applied to the input signal.
Keeping the device in 'unipolar' mode, we drag the small node in the middle of the graph upwards until we get our desired level of distortion. Let's add some more grit into the mix.
Slot 3: Soundgoodizer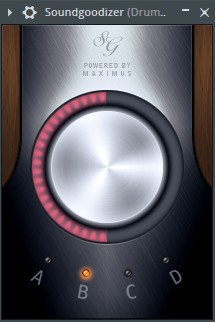 Third in line is one of our favourite FL Studio plugins, and not just because of the name!
The Soundgoodizer is essentially a simplified version of the Maximus Multiband maximizer, giving us 4 presets (A, B, C, D) with a large dial which is a dry/wet mix of the input signal, and the combined output of each compressor in the multiband.
In our case, we've opted for the 'B' preset and dialled-up the knob to half-way. This seems to give our beat some extra punch in the low-mids.
Slot 4: EQUO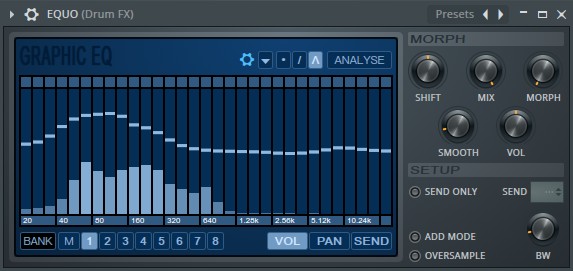 Now that we've given our drums some grit, crunch and punch, it's time to add an EQ curve to help finesse the sound we want.
The EQUO plugin is designed for this kind of 'tone-shaping', allowing us to boost and cut broader bands, as opposed to other EQ devices that are more suited to precise, surgical EQ'ing.
As you can see above, we've drawn in a boost to our low-end to really get the kick pumping, as well as lifting the highs ever so slightly to compensate for this.
Slot 5: Fruity Limiter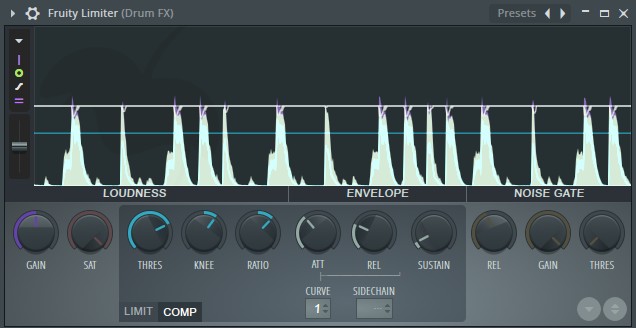 Finally, we'll add the Fruity Limiter (in COMP mode) to round off our FX chain. This is really just to control our peaks through compression and also give a touch of cohesion to the different sounds running into our drum bus.
Now when we click on 'Drum Bus' in our mixer, on the right hand side we should see the following inserts: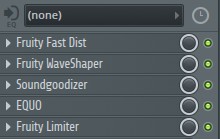 And that's it! Let's take a listen:
Sounding nice and filthy indeed. Let's add some more loops from Vintage Hip Hop Loops to hear our beat in context:
Nice! Now have a go yourself - feel free to tinker with the settings we suggest, depending on how filthy you like your beats.
You can also check out our previous article Free FL Studio FX: Drum Booster, which shows you how to give a more subtle lift to your drums in FL Studio. The article also includes a download featuring FL files and free drum samples!